- August 2007
- www.nordson.com

King Printing Acquires DGR KM40 Automatic Binder .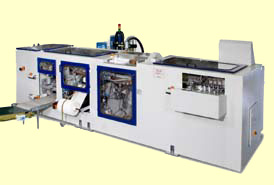 DULUTH, Georgia - August 22, 2007 – King Printing Company of Lowell, Massachusetts has recently installed a DGR KM40 automatic binder; this is the first installation of a KM40 binder in the United States. The DGR KM40 binder is specifically designed for short-run book production and features automatic thickness and size adjustment to facilitate fast format changes.

"Acquisition of the DGR KM40 automatic binder complements our existing equipment as we continue our commitment to meet short-run printing and binding market requirements," says Adi Chinai, joint managing director of King Printing.

King Printing's DGR KM40 binder is equipped with Nordson® spine and side glue systems. The EP 48 VL spine glue head and SolidBlue™ side glue guns are fed by a DuraPail™ bulk adhesive melter and controlled by a LogiComm® system. Additionally, there is a cold glue pneumatic pump and LA 227 adhesive guns for side gluing.

The DGR KM40 binder can be handfed or used in-line with gathering or printing. The system incorporates milling, notching, gluing, end papering, back lining and cover feeding as needed. The versatile DGR KM40 automatic binder can produce book blocks, soft cover or lay-flat pieces.

King Printing of Lowell, Massachusetts has spent nearly 30 years serving short-run printing and binding customers. The full service production facility offers digital printing along with a broad range of finishing options including Perfect Binding, saddle stitch and spiral binding. King Printing serves domestic and international customers such as self-published authors, small businesses and book publishers.

Nordson Corporation is one of the world's leading producers of precision dispensing equipment that applies adhesives, sealants and coatings to a broad range of consumer and industrial products during manufacturing operations. The company also manufactures technology-based systems for curing and surface treatment processes. Headquartered in Westlake, Ohio, Nordson Corporation has 3,600 employees worldwide and direct operations and sales support offices in 30 countries.